Sean Patrick Devereux
Founding Partner
---
Sean Patrick Devereux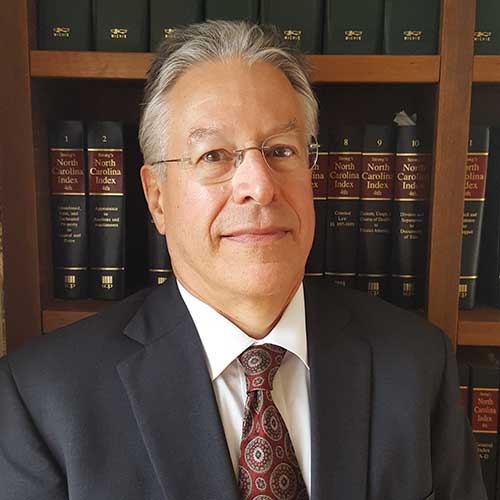 Location:
Asheville, North Carolina
Phone:
828-285-9455
Fax:
828-285-9457
Sean Devereux has practiced law in Asheville since 1978. He has tried cases across the criminal law spectrum from bear-baiting to capital murder and antitrust violations. In recent years, Mr. Devereux's practice has been concentrated in the area of white collar criminal law. His clients have included several banks; a real estate consulting, investment and private lending company; executives of a building contractor involved in a federal bid-rigging investigation; executives of two separate manufacturing corporations – one American and one Finnish – which were the subject in a federal anti-trust inquires; a farming conglomerate accused of $9 million in federal crop insurance fraud; and various real estate developers, investors and appraisers. Many of these matters have been resolved without criminal indictment.
Mr. Devereux has also been called upon to represent a number of public officials. In 2009, the firm appeared in Superior Court for the Sheriff of Lincoln County, who was charged with obstruction of justice. All charges were ultimately dismissed, as was a civil suit to remove the sheriff from office. Mr. Devereux presently represents another Western North Carolina sheriff being investigated in connection with video poker violations. The firm has also made a practice of providing legal services to various professionals – physicians; nurses; attorneys; law enforcement officers who – find themselves accused of criminal or administrative law violations.
Mr. Devereux has lectured at continuing legal education programs for the North Carolina Academy of Trial Lawyers, Wake Forest University School of Law; The School of Law, University of North Carolina at Chapel Hill; and the Office of the Federal Public Defender. He is currently involved in a project with the Wrongful Conviction Clinic, Duke University School of Law.
Mr. Devereux's father came to America from County Wexford, Ireland in 1928. He was a lifelong storyteller. Mr. Devereux's mother was a schoolteacher and, at age 90, remains a student of literature. At Duke University, Mr. Devereux himself won the Anne Flexner Award for Fiction Writing. Sean Devereux believes in listening to clients' stories and re-telling those stories in the courtroom. Mr. Devereux brings imagination; a love of language; and an appreciation for human resilience as well as human frailty to all of his work as a lawyer, both inside and outside of the courtroom.
Bar Admissions
North Carolina, 1977
U.S. Court of Appeals 4th Circuit
U.S. Court of Appeals 6th Circuit
U.S. District Court Western District of North Carolina
U.S. District Court Eastern District of Tennessee
Education
University of North Carolina School of Law, Chapel Hill, North Carolina
Duke University, Durham, North Carolina
The Bolles School, Jacksonville, Florida – 1965
Classes/Seminars
Lecturer, Continuing legal education programs for the North Carolina Academy of Trial Lawyers, Wake Forest University School of Law; The School of Law, University of North Carolina at Chapel Hill; and the Office of the Federal Public Defender
Teaches, Wrongful Conviction Clinic, Duke University School of Law
Honors and Awards
Anne Flexner Award for Fiction Writing
Legal Elite, North Carolina Business Magazine, 2003 – 2005
Legal Elite, North Carolina Business Magazine,, 2008 – 2011
Top Lawyers in North Carolina (Charlotte Magazine), 2009 – Present
Fellow, American Board of Criminal Lawyers (Nominated by Joseph Cheshire V. Nomination pending)
Martindale-Hubbell AV Rating, 1996 – 2011
Professional Associations and Memberships
North Carolina Bar Association
North Carolina Advocates for Justice, North Carolina Advocates for Justice, 2002 – 2004
North Carolina Advocates for Justice, Vice President for Legal Affairs, 2001 – 2004
North Carolina Advocates for Justice, Chairman, Criminal Law Selection
North Carolina Advocates for Justice, Member, Executive Committee, Board of Governors, 2001 – 2004
North Carolina Advocates for Justice, Member, Board of Governors
North Carolina Advocates for Justice, Member, Education Committee
National Association of Criminal Defense Lawyers
Bar Association of the 28th Judicial District
Harry C. Martin American Inn of court , Inaugural "Master" Members, 2010 – Present
American Board of Criminal Lawyers
Pro Bono Activities
Member, North Carolina Commission on Indigent Defense Services, Appointed by President Pro Tempore, North Carolina Senate, 2006 – Present
Alternate member, North Carolina Innocence Inquiry Commission , 2007 – Present
Member, Board of Directors, Federal Defenders of Western North Carolina
Member, United States Magistrate Merit Selection Panel, 2009 – Present
Member, Board of Directors, Lake Eden Arts Festival